Learn English Fast® Essentials Book Series
ESL BOOK SERIES FOR POLISH SPEAKERS
LEVEL 1 BOOKS (A1-B1)
Polish Edition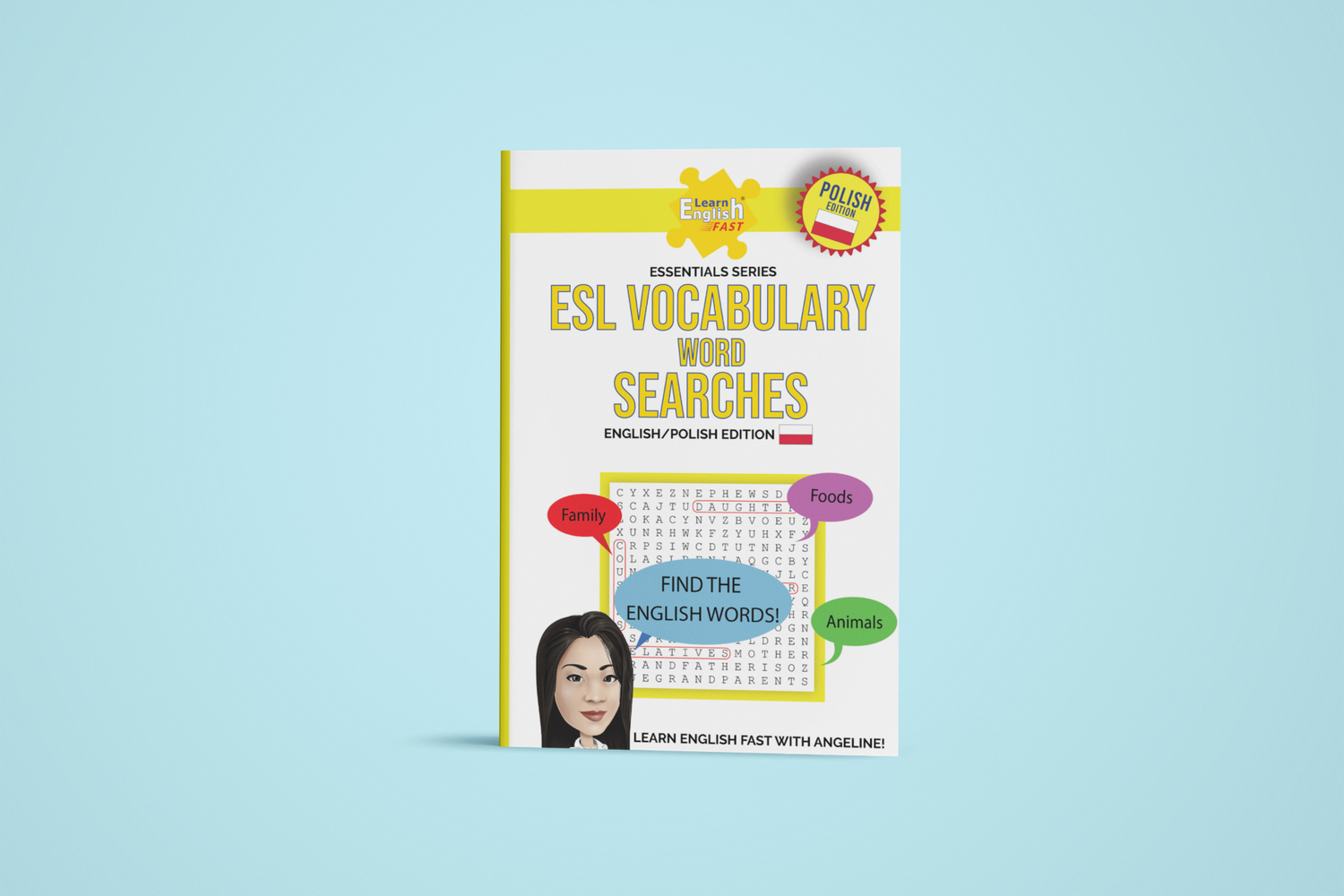 ESL Vocabulary Word Searches
Wyszukiwanie słówek ESL
Have fun learning english vocabulary with word searches!
Baw się dobrze, ucząc się angielskich słówek z wyszukiwaniem wyrazów!
Includes over 60 word searches.
Zawiera ponad 60 wyszukiwań słów.
Search English words.
Szukaj angielskich słów.
Spanish translation included.
W zestawie tłumaczenie na język hiszpański.
POBIERZ NA AMAZON!
Everyday ESL Conversations In Public Places
Codzienne rozmowy ESL w miejscach publicznych
Learn to speak conversational english with realistic short stories or situations.
Naucz się mówić po angielsku z realistycznymi opowiadaniami lub sytuacjami.
This book is completely bilingual (English/Spanish) so you don't have to leave the book if you don't understand and English word.
Ta książka jest całkowicie dwujęzyczna (angielski/hiszpański), więc nie musisz jej opuszczać, jeśli nie rozumiesz jakiegoś angielskiego słowa.
POBIERZ NA AMAZON!
Egg Recipes In The Past Tense
Przepisy na jajka w czasie przeszłym
Eggs are the perfect food to learn English fast.
Jajka to idealne jedzenie do szybkiej nauki angielskiego.
You can fry eggs, bake or boil eggs and eat them as a main dish or ingredient.
Jajka można smażyć, piec lub gotować i spożywać jako danie główne lub dodatek.
The recipes in this book are written in the past tense since we usually speak in the past tense during conversations with friends!
Przepisy w tej książce są napisane w czasie przeszłym, ponieważ zwykle mówimy w czasie przeszłym podczas rozmów z przyjaciółmi!
POBIERZ NA AMAZON!
Verbiage ESL Songs For Adults
Werbalne piosenki ESL dla dorosłych
ESL Songs For Adults Are Hard To Find!
Piosenki ESL dla dorosłych są trudne do znalezienia!
My name is Angeline Pompei. My album verbiage is an album of 17 songs for learning English based on the English verbs!
Nazywam się Angeline Pompei. Mój album verbiage to 17 piosenek do nauki języka angielskiego opartych na angielskich czasownikach!
I made songs in different music genres.
Tworzyłem utwory w różnych gatunkach muzycznych.
Just search Angeline Pompei Verbiage and look for the album cover you see on this book!
Po prostu wyszukaj Angeline Pompei Verbiage i poszukaj okładki albumu, którą widzisz na tej książce!
POBIERZ NA AMAZON!